Joe Pinder makes functional yet remarkable stoneware pottery!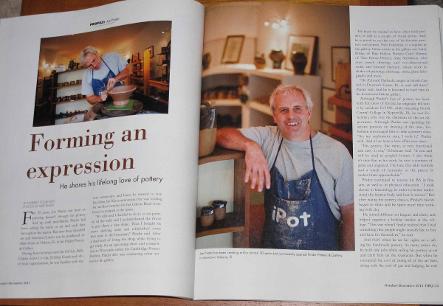 Please feel free to browse through the gallery and make purchases through the shopping link. All Pinder Pottery is microwave, dishwasher, and oven safe. Each piece is fired to 2167 degrees at which time it vitrifies to a strong, non-porous surface; making it practical for everyday use.
Don't forget to look at the Events tab for the Galena Studio Tour events where we welcome you to our open studios for demonstrations, tours, and light refreshments. This is a unique opportunity to take a self-guided studio tour and meet the artists, see them work, and learn the story behind their artwork.

Pinder Pottery Gallery also features the work of fellow Jo Daviess county potters- Paul Eshelman, Carol Mantey, and Larry Priske and the pottery of Christina Lemon. We also have artwork from Galena Artists Carl Johnson. Click the Gallery link for more information about each artist.
Testimonials
"Thank you for the quick delivery of the beautiful pottery. They will be delighting friends and family from coast to coast!" -- Geoffrey, Chicago
"Overall, I would definitely keep this place in mind on a return visit to Galena for art with a personal touch and a local flavor." -- S.M., Naperville